"Mmmm...BEER." - Homer Simpson
I'll never forget the first time Homer uttered those two glorious words. My dad lost his shit. And as a kid, I didn't understand why. But anytime my pops found something funny, I too - "lost my shit." But the truth is, maybe Homer and my dad were geniuses at large. Maybe they knew something I didn't? And come to find out, they did - because beer IS freaking delicious! So what happens when geniuses start conversing over delicious beer?
They drop science.
And that my friends, is how genius products are born. So lets check out the hottest beer holders on the market today...
The Beer Buckle
The folks at
Beer Buckle
 have figured it out. Why not combine southern fashion with beer drinking? Plus the shape of a bottle protruding from your crotch region gives the illusion of a giant manhood (hence the pic above). Only a beer drinker could invent that.
Hops Holster 12 Can Ammo Belt
You can never step into a gun fight with too much ammo. Nobody will ever know you're rockin' the
Hops Holster 12 Can Ammo Belt
either. Ya know, cause the camo, bro.
Suzy Kuzy American Beer Mit
We love Murica. So much, that you can let Freedom fly from your fingertips with the
Suzy Kuzy American Beer Mit
. That's right it's strapped to your hand. Anyone who would set their beer down is a damn commie anyways.
Walnut Studiolo 6-Pack Bicycle Carrier
A beer holder for your bike. Nuff said.
Walnut Studiolo 6-Pack Bicycle Carrier
makes for the most anticipated ride to your destination, and the funniest ride home after a six-pack.
Swirly Gig
If you've ever been to Nashville, TN - then you've probably heard of "holler n' swaller." Every musician down there will convince you "hollerin" then "shallerin" shots of whiskey is a great idea. And the 
Swirly Gig
fits directly on a mic stand for all those thirsty musicians, genius.
Budweiser's Buddy Cup
Well, this is only in prototype stages. But the Budweiser Buddy Cup being released in Brazil lets you cheers someone at a bar and auto-friends them on Facebook. There's a wifi transmitter in the bottom of the cup linked to your Facebook account. Genius or creepy (probably creepy, I don't need anymore Facebook friends)?
Growler on Board
Buckle in kids! Or buckle in your growlers that is. The
Growler on Board
makes travelling home with a couple growlers much safer. Plus you won't have growlers rolling around on the floorboards.
Kroozie
Beach cruisers are better with beer. Hell, beaches and beers go hand in hand. Why not install a
Kroozie
and wobble the beaches in style?
Scorzie
Solves the age old problem - how many have I had? With
Scorzie
that's no longer a question. Track your beers right on the koozie, because after about 10 everything becomes questionable.
Flowzie
Their motto - "Hit It n Quit It!" The
Flowzie
makes shotgunning beers easy, and anything that makes drinking easy is alright in my book.
BeerHugz
It's so stylish! The
BeerHugz
has such a unique design it makes a great conversation piece. Genius design at work.
Hammock Beer Holder
Hey, when you gotta hammock, you gotta hammock. Why let your beer spill in an ocean of hammock? Hang it like a pirate sailing the high seas!
Man Cave Pocket Pillow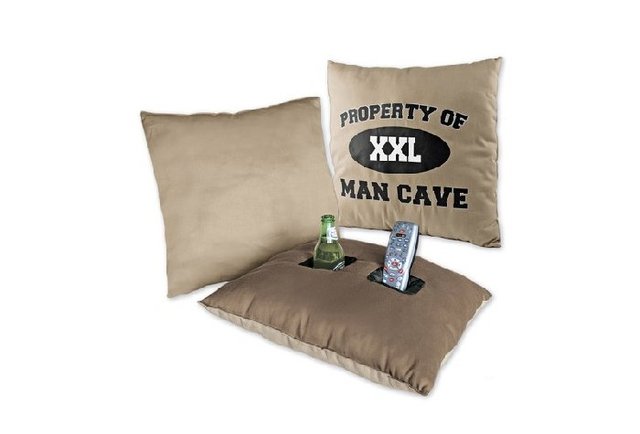 I agree - "PROPERTY OF XXL MAN CAVE" is not the coolest. But a blank pillow with cup holders on one side brings football watching to max level. Pass out, drink, pass out, drink. You get the picture.
Hanskie
All the Wisconians will love this. A mitten koozie. Nuff said. The
Hanskie
is obviously made for tailgating, and that, is not a crime.
BONUS: SHAKOOLIE
These beer holders are all great, but personally we love a beer in the shower. I know it's our product, but I also believe its a stroke of genius just like my dad and Homer.
If you love
shower beers then check out Shakoolie
- here's to great beer holders!